Waste your money at a game that will be sooner or later ported to a console!
Reviewing arcade games is kind of hard honestly; there isn't much to say about arcade games, most follow a typical line of rules to be accessible to anyone just wanting to have a short play in a bar, hotel, video game shopping districts or a rich kid's home! You can clearly see I struggle sometimes to write a single thing about a game, because some are so awfully simple all it could be really is a game about a cube trying to survive by shooting other cubes (WHICH IS VERY COMMON). I'll say things over and over again for the sake of saying it like "You can get upgrades!" or "The Visuals are spectacular" especially considering most arcade game have the top of the line animation in comparison to most of the limited hardware, keep in mind, most arcade games are a huge box to themselves rather than a huge box for others. Arcade games should be really interesting in any occasion considering they are supposed to catch the eye of the player for some COIN. Arcade games should power crazy, the top of the line! But in general it is hard to criticize a game, that is simply a decent game. I can tell about what it's about for some minutes but it won't change the fact that it is almost the default meaning of what it is to be a game. Consider these reviews lazy or anything but do also consider when I do give something a HIGH SCORE.
This page won't have the most of info considering there is quite a lot to be said program wise about each single game, every arcade game uses a cabinet, and that cabinet might be using a specific engine that attracts different games to use the same engine, for example the Neo-Geo, one of the best Arcade engines ever has a lot of games going for it. It's also worth saying that the Neo-Geo was later sold separately as a console that was extremely expensive, but let you play the arcade games simply at home without buying an entire cabinet. In a nutshell don't expect me to say the chip devices of each game, but screenshots provide evidence of what I'm talking about either way and if you are familiar with many arcade engines you'll probably say "Wow this looks exactly like that other game" probably because they are made by the same people or made in the same engine. By design rules, most arcade games are extremely unfair for the fact that they need quarters to survive the economy and feed their arcade family.
2 on 2 Open Ice Challenge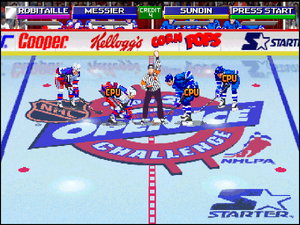 By:
 Midway
Year: 1995
Genre: Sports
Length: Until you get bored.
4-D Warriors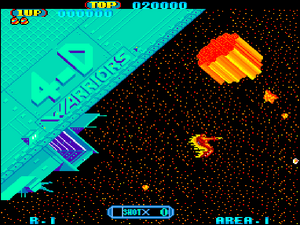 By:
 Banpresto, SEGA
Year: 1985
Genre: Shoot 'em Up
Length: Until you get bored.
64th Street: A Detective Story
By:
 Jaleco
Year: 1991
Genre: Beat 'em Up
Length: Until you get bored. Odd transitions. Nice envioriment interactions. 
'99 The Last War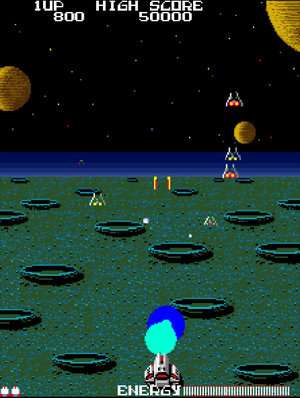 By:
 PROMA
Year: 1985
Genre: Shoot 'em Up
Length: Until you get bored.
600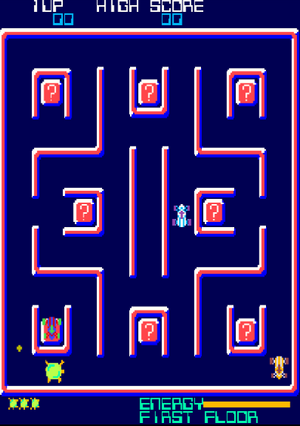 By:
 Konami
Year: 1981
Genre: Maze
Length: Until you get bored.
Really weird concept as you play as a turtle, takes strategy, you can only have one poop on the screen until a enemy runs by it. Takes allot of strategy to play the game, very simple when you get the plan.
720°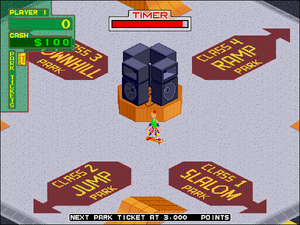 By:
 Atari Games
Year: 1986
Genre: Sports
Length: Until you get bored.
800 Fathoms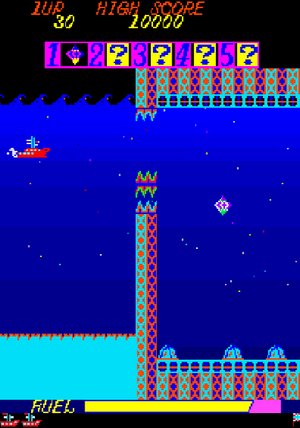 By:
 Amenip Corp
Year: 1981
Genre: Shoot 'em Up
Length: Until you get bored.
1941: Counter Attack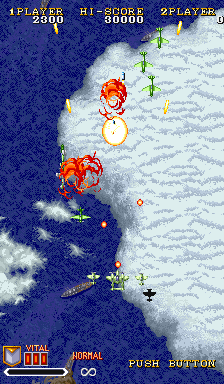 By:
 Capcom
Year: 1990
Genre: Shoot 'em Up
Length: 1 hour 
1942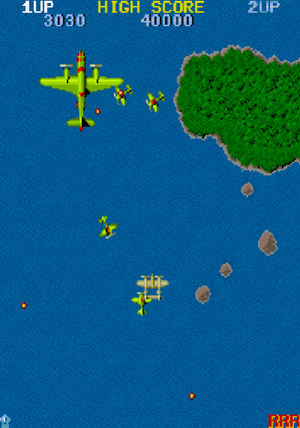 By:
 Capcom
Year: 1984
Genre: Shoot 'em Up
Length: 1 hour Players: [1][2]
1943: The Battle of Midway
By:
 Capcom
Year: 1987
Genre: Shoot 'em Up
Length: 1 hour
19XX: The War Against Destiny


By:
Capcom
Year: 1995
Genre: Shoot 'em Up
Length: 1 hour

Set in a World War 2 fictional era, AND BOY how fictional it is, it's hard to believe all this stuff happened in the World War 2 era, this doesn't look like it was set in the 20th century at all, it looks like it was set in the 30th century, machines can shoot lasers, tanks fly and PLANE WINGS turn into ARMS. But that's all right, it's fictional isn't it? This game is a solid shoot 'em up with one of the best well detailed designs ever, explosions look exciting, backgrounds are well detailed and look like actual pictures as seen as above and most of the enemies and including yourself have cool 3d effects. Gameplay is fairly typical, the game starts off as an easy game but by the third level it all goes to BULLET hell from there, there are 3 powers you can get: The Vulcan, which is pretty much straight forward shots, Missiles that are pretty much the spread shot of this game and go 3 ways and the LASER which is pretty much the Vulcan except more useless and less realistic for a World War 2 based game! Getting these items is a pain, due to the fact that the screen is always changing and trying to get one simple item is constantly a chase as if the item itself had life and is trying to run away from you. You can choose from 3 ships that are Lightning, the balanced one, Mosquito the slow and powerful one (which is ironic considering his name is a mosquito not the Hippopotamus) and Shinden, the fast but weak one… And now that I did a search on these planes there actually based on real life war planes and I feel bad for making the hippocampus joke because people have actually died in war using these planes… Anyways the thing you most do in this game is charge shot, when you shoot a charge shot it activates a beacon which another set of homing bullets shoot it, this can be very usefull for when you are moving too much and dodging bullets and really good for multi-tasking tricks. At the end of a level you will be prized level medals for how good your accuracy was (I know right who cares about accuracy in a damn Shoot 'em Up?!) and it will show how many medals you got during your mission(destroying some enemies in the game will make medals pop up and you can collect them). The music in the game is pretty calm for a hard Shoot 'em Up, but I kind of learned to love it, it's even kind of beautifully in the way its calm, it's amazingly composed and in the credits the music really gives you a feeling that the world is saved from war.
Probably the best of the entire World War 2 Capcom shooter series, amazingly detailed, unique charge shot and with a pretty tight difficulty. I just don't simply get the accuracy level ranking system that much…
Act-Fancer: Cybernetick Hyper Weapon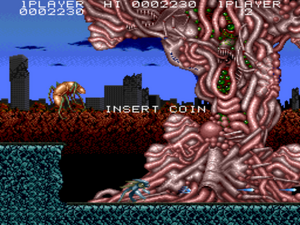 By:
 Data East
Year: 1989
Genre: Run and Gun
Length: 1 hour
It uses the old style of visceral to convey it's enemies and while you're mecha you're controlling is aswell… Visceral? Maybe, it does seem biological when it gets a powerful and transforms into another species.  With each powerup is a better weapon (kind of, it's a bit random as some weapon settings might be better in some occasions so the power upping is a bit broken). The Mario health system is quite fine with each powerup you get is another life you can spend, you lose your lifes it gets harder but the problem is there are absolutely no continues, you die and you are back to a checkpoint. You do not start off where you die making this a completely painful game to experience. The hit boxes are incredibly biased towards the enemies and sometimes it will seem you have been hit by absolutely nothing. On top of that it hardly feels as if you are hit by something, the time given for you to catch your thought that you are being hit is barely and if you stay in attack it will simply keep draining. The levels are mostly flat and the game has a function to float which will is mandatory to survive during the entire game due to the fact for boss fights it's all death zones.  The music isn't memorable at all and it doesn't seem to have any peak, especially with it's sound chip choice and how it somewhat will clip out during your plays.  
The game is too hard to enjoy and doesn't have any stand out features from the rest of its visceral shoot 'em up friends.
Aero Fighters 2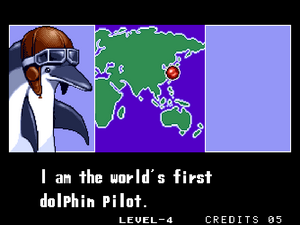 By:
 Video System, SNK
Year: 1994
Genre: Shoot 'Em Up
Length: 30 minutes
After Burner
By:
 SEGA
Year: 1987
Genre: Rail Shooter
Length: 30 minutes
After Burner II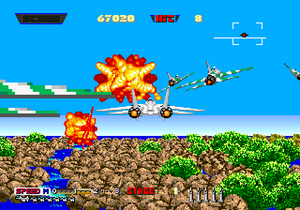 By:
SEGA
Year: 1987
Genre: Rail Shooter
Length: 30 minutes
FIRE! This is Just one of those games that you have to tilt your head while playing! Honestly at first I thought that was After Burner 2 was a bit way too head aching. I think my brain's dead now after playing it allot… The whole game is viewed in a somewhat cockpit view EXCEPT in third person, the gameplay is simple like any other shooter game, aim and shoot! Which is sadly kind of hard considering your aim is pretty short and you have to constantly flee bullets while trying to shoot someone, it is easier to send in homing missiles to do the job which make a giant role in After Burner, usually the only way to kill people in my book and the only way to shoot something while dodging allot of planes and you don't even need to worry that much in running out of missiles considering during a end of a level you will land or a plane above you will give you more missile ammo. Of course I have to talk about the solely reason why After Burner 2 is famous as it is today, its stunning 3d graphics! Like I said before, it kind of gave me a headache but I later got used to it, it's best experienced when you are in an actual cock pit in the arcades to give a real feeling. The music has a great 80's rock 'n roll feeling, similar to Top Gun another media product related to assault air planes (for some odd reason people liked planes allot back then) and it's pretty memorable and really gives you the feeling of ACTION.
Honestly if you take out all the hype about the fancy unique 3d graphics, the game is fairly repetitive and only fun if you really do like tilting your head to the side and imagining your piloting a actual plane. But still, a classic shooter anyone can easily pick up and love. This game is really easy to find considering it bombed allot in it's time and is pretty much almost everywhere, so you can try it out.
Aggressors Of Dark Kombat
By:
 ADK,SNK
Year: 1994
Genre: Shoot 'em Up
Length: Until you get bored.
Air Gallet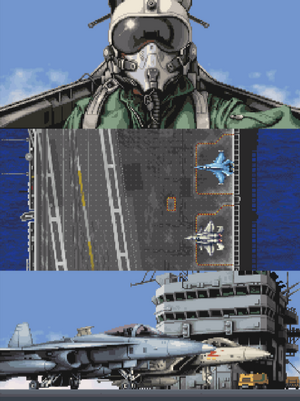 By:
 Banpresto, Gazelle
Year: 1996
Genre: Shoot 'em Up
Length: Until you get bored.
Airwolf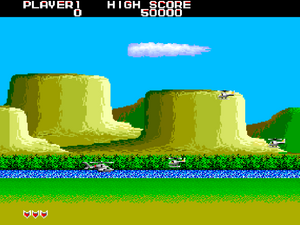 By:
 KYUGO
Year: 1987
Genre: Shoot 'em Up
Length: Until you get bored.
Ajax
By:
 Konami
Year: 1987
Genre: Shoot 'em Up
Length: Until you get bored. 
Akkanvader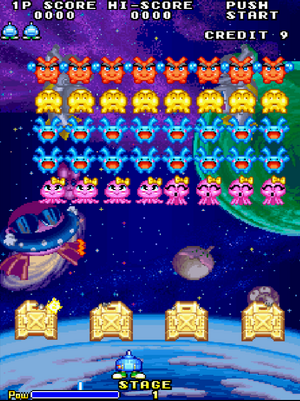 By:
 Taito
Year: 1995
Genre: Shoot 'em Up
Length: 30 minutes
Simply heartwarming, the little touches are adorable and the effort is amazing such as every second player character being a girl version of the first player.
Akuma-Jou Dracula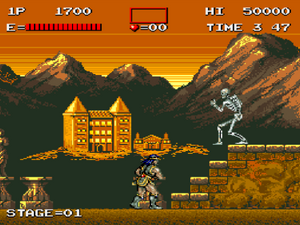 By:
 Konami
Year: 1988
Genre: Platformer
Length: 30 minutes 
Alien Storm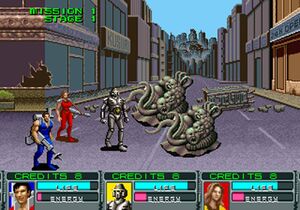 By:
 SEGA
Year: 1990
Genre: Beat 'Em Up, Rail Shooter
Length: 30 minutes
The game at first feels as if a somewhat rip off of ghost busters but with aliens but apparently is just another zany Shinobi Team game… Ugh… What is it with Shinobi team always doing a game with the worse possible combat ever? Really? First Golden Axe, then Altered Beast with the most boring beat em ups ideas in the world. Here comes another one from them with no prevail yet again. The combat is by far immensely repetitive having barely any strategy other than pressing the attack button, other than that there is jumping and from time to time a first person rail shooter level will appear to vary the monutneus gameplay. The music isn't that good and the graphics are ok, yet still suffer of that Shonibi team realism and choppy animation.   The ending as usual can be considered entertaining but this is something common amongst all of their games, also a bit too self-inserted isn't it? Ok ending though. The audio has come back with the EAR piercing voices, this time with horrendous cheesy phrases. You have from 3 characters to choose from and you don't have the option to choose between them via first player, only when going to multiplayer.
Shinobi Team has yet to discover what is everything wrong with them since the beginning of their start on Sega. The game reeks of cheesiness to a point it's painful and still has everything that made all of Shinobi Team's games bad.  The game is more playable this time but that isn't enough.
Alien Syndrome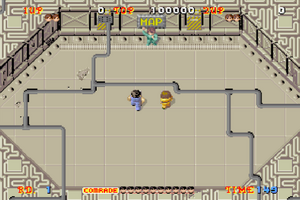 By:
 SEGA
Year: 1987
Genre: Isometric Shooter
Length: 30 minutes
Alien vs. Predator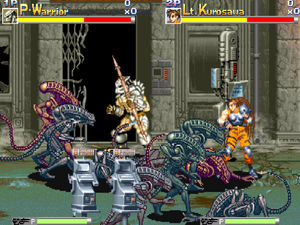 By:
 Capcom
Year: 1994
Genre: Isometric Shooter
Length: 1 hour
Aliens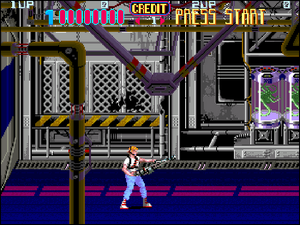 By:
 SEGA
Year: 1990
Genre: Run and Gun
Length: 1 hour
A run and gun in disguise of a beat em up
Alpha Mission II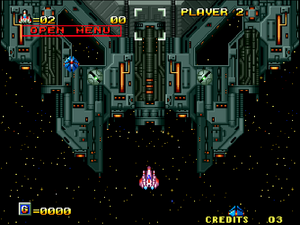 By:
 SNK
Year: 1991
Genre: Shoot 'em Up
Length: 1 hour
Alpha-1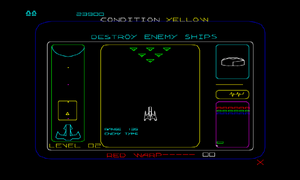 By:
 Atari
Year: 1983
Genre: Platformer, Shoot 'em Up
Length: 1 hour
The fact that you can go on actual missions is quite amazing yet incredibly fast and smooth animation to boot! The game is incredibly hyper active and is difficult for this exact reason, in which you must do all actions FASTLY and perfectly to not end up in a pickle like most platform sections. The sections go like this: First you have to shoot the enemies around a base during your ship flight, then you gotta land your ship on the base, then you have a limited amount of oxygen and zero gravity inside the base so you can grab oxygen to gain more time, you have many paths to get to the generator to defuse of the base but there is usually one path that is pretty easy with no obstacles that kill you yet take precise zero gravity jumps to get to without hitting your head on the ceiling causing you to fall. After defusing you gotta escape in a short time. The attention to detail in this game is simply one of the greatest I've seen. During your briefing of the mission if you use the action button it will start to play alleyway INSIDE the briefing menu for a short time to stack up some little points. If you let your character idle at the generator for the bass he will make a comic idle animation leaning on the generator!!   I cannot say this isn't one of the most highly detailed games with effort I've seen for it's time for it is simply charming to think about it. The variation of levels is fascinating and thrilling while paterns might change and even levels during it. 
Fast gameplay, amazing animation and detail, pretty fun yet challenging as hell, a real multi-tasker and possibly one of the best vector based games I've ever played. 
American Horsehoes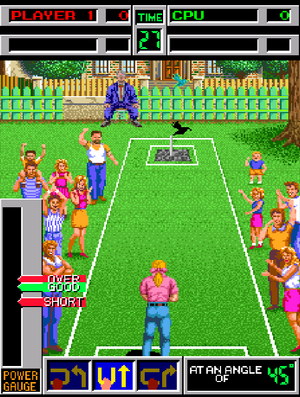 By:
 Taito
Year: 1990
Genre: Sports
Length: Until you get bored.
When you think they didn't have everything to make sports games of, heck invent a new sports specifically for one single game… OF all sports they choose HORSE SHOE THROWING. A hobby you thought didn't exist for quite a while but most of remembered somewhere in some popular media culture product being shown. Either way the game is actually somewhat decent in which it gives you tutorials for each step if you don't know what to do that is very helpful. The game in the end just ends up playing like a golf game in a way but with trusting a trackball instead and no variety in any of the maps outside of background animation and stuff. At first glance it seems like a ok game all around but the controls are a bit confusing due to the trackball being not only where you control your character but you have to thrust it for your character. Jittering is impossible to avoid here in these occasions.
But really… Horseshoes? In video games? Why.
Andro Dunos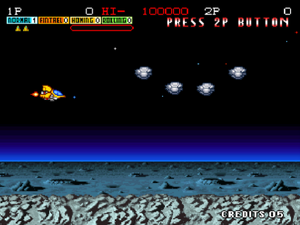 By:
 SNK, Visco
Year: 1992
Genre: Shoot 'em Up
Length: 30 minutes
Respawning is instant! From the start of the game you have a selection button which allows you to switch between 3 types of firing 
Angel Kids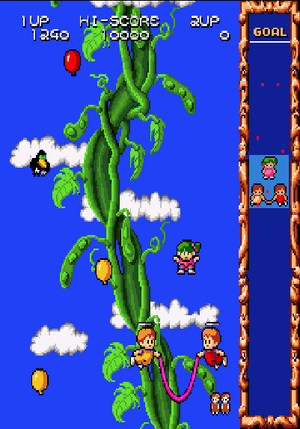 By:
 Exa Planning, SEGA
Year: 1985
Genre: Shoot 'em Up
Length: 30 minutes
Wow! This is an insane concept but as soon as you get used to playing for the first minute you kind of get your mind in sync with whatever attempt it's trying to do. Whatever the cause this is a game that fully uses both your hands. On second thought it does feel as if it was more designed towards a co-op friend experience but the idea of using both controls are still well with me . The locations vary from level such as a beanstock or a building but other than that the entire game is the same thing and can easily be beaten by simply going up while balancing the girl on the string. I have no idea who thought up this weird concept and why it's a one trick pony. But whatever.
The game ends up being a weird idea with almost no fun at all with the only intention going up and destroying everything that goes in your path. Very decent graphics for the time though!
Anteater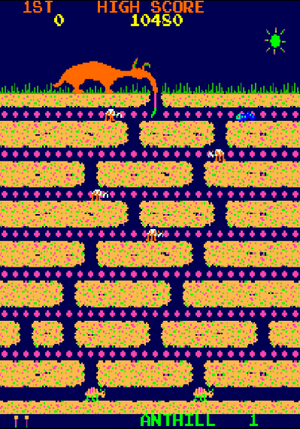 By:
 Stern Electronics, 
Tago Electronics
Year: 1982
Genre: Maze
Length: Until you get bored.
This game is complete bullshit. As an ant eater your goal is to collect pellets… Right. Ants are obsticles around but you can defeat them ONLY if you use tip of your tongue that glows green, if the ants touch any other part of your tongue you die, keep in mind your tongue leaves a trail and is not a single entity so you will keep coming back and back to return your tongue when you see an ant approaching it. What kind of ant eater I'm I? I get it's weird to plan this type of game but god this idea has went to the point of making a game almost unemployable if you don't have any fast reflexes! Oh and caterpillars are other obstacles that can pass by your tongue fine but cannot touch your tip. Maybe the ant eater is allergic to caterpillars but then again I've never seen a ant eater eat bugs that immensely. Anyone with a slight compulsive disorder will have a panic attack playing this game with its numerous and unfair traps. You are constantly over pressure as in every single strategy must be used all at once and if you don't act you die. It feels tence but it doesn't feel actually hard. It's a unfair kind of hard that goes on slowly possibly and hard to react. 
I don't recommend this game because it is the type of game that will give you a hard time, make you uncomfortable and constantly worry you.  Much like when you get your hand covered full of ants. 
Aqua Jack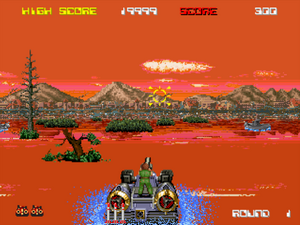 By:
 Taito
Year: 1990
Genre: Rail Shooter
Length: Until you get bored.
Arabian Magic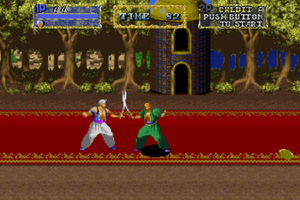 By:
 Taito
Year: 1992
Genre: Beat 'Em Up
Length: Until you get bored.
Ark Area
By:
 UPL
Year: 1987
Genre: Shoot 'em Up
Length: Until you get bored.
FLASHING TEXT.
Arm Wrestling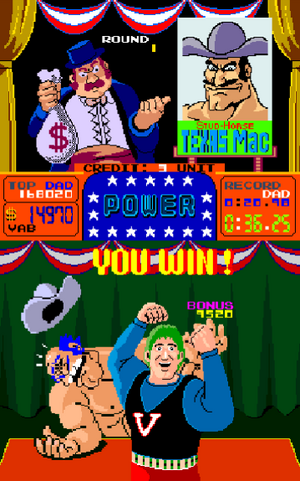 By:
 Nintendo
Year: 1985
Genre: Sports
Length: Until you get bored.
LEFT AND RIGHt. 
Armed Police Batrider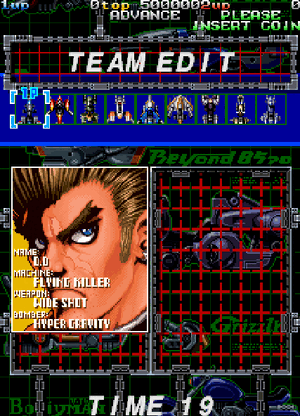 By:
8ing/Raizing
Year: 1998
Genre: Shoot 'em Up
Length: 30 minutes
WELCOME TO VIOLENT CITY. This has to be one of the hardest Shoot 'em Up's to explain, it is seriously over the top in terms of complexity and quantity. The concept is that in the future Manhattan became hell and crime and violence is everywhere, the game itself calls it "VIOLENCE CITY" of how violent it is… And I guess you have to save it? The game itself never tells you about saving it or anything I guess you're just shooting bad guys for fun in this case. If you're wanting quantity in a shoot 'em up, this game has it of plenty, there is 9 CHARACTERS you can choose from in terms of team or just mix them up! Each character has their own style and character design, which is something I need to talk about, the design in this game is pretty FUNKY and reminds me allot of JoJo's Bizarre Adventure. The gameplay is pretty simple, but if you analyze it deeper… It ain't simple at all. This game has a unique system that of which the better you do during the game collecting stuff, the harder it gets, and if you die allot the game gets easier, you can choose your way of dying or your own team like I said before, going to levels depends on what actions you do inside a level and my first time playing this game the game literly said "Try another route for me" and I was like… Another route? You telling me this game has multiple routes? A funny thing about the game "telling" is that the announcer's voice is beyond hilarious; it's like a strong Australian accent but also sounds like the announcer bit its lip, a strong Australian accent biting his lip. It is that funny. In terms of shooting each character has there own regular shooting, secondary shooting and the most important BOMBS. Using bombs is essential for survival in this game, it's has its own ammo in the corner and you can fill it up by destroying stuff in the level and grabbing some icons, and BOY is there allot of bomb ammo! There will be times where the WHOLE screen will be filled of icons with a missile inside it, but they're there for a reason because you will need allot of the ammo, and the sad thing I haven't even discovered how many ammo you need for one bombing. The music is pretty radical, hardcore, bad ass and a funny thing about it is that it actually shows up in the corner showing what track you're listening to, I couldn't stop laughing when the name of the song was "Let's Ass Kick Together!" during a boss fight, cost me some lifes there.
Like I said before, talking about the game entirely is kind of a hard thing to do so I will simply stop here, the game has a cyberpunk feeling and excellent animation in general, most of the time the complicated systems will be more of a thing in the background for you when you're shooting so no need to worry at all about it. The number of numerous choices to play this makes the game and adds allot of replayability. This game is simply MARVELOUS!
ARMED POLICE UNIT GALLOP
It's hard to tell that this is actually a part of the R-Type series, it hardly looks like an R-Type game. Everything gray and bround except the little info bar on the bottom, the game warns you when there are walls to be destroyed unless you are faced with death from time to time, and the game will drop some framerates in those locations but it's a pretty cool thing that they warn you first considering how fast you are going, it's not like in other shoot 'em ups with other destructible passages were the speed is constantly given by the level, as your speed depends on how far you are to the right or the left so you actually have some control.
The ships are pretty big and the levels are interesting, this is a very decent addition to the R-Type series even though it seems way too grim dark for it with its colors. 
Armored Warriors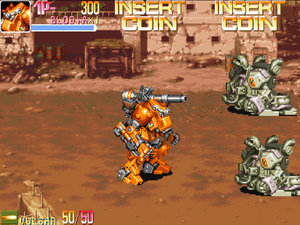 By:
 Capcom
Year: 1994
Genre: Beat-Em-Up
Length: 30 minutes
Art of Fighting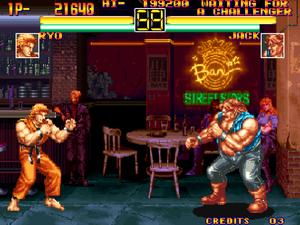 By:
 SNK
Year: 1992
Genre: Fighter
Length: 30 minutes
Art of Fighting 2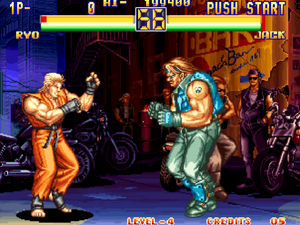 By:
 SNK
Year: 1994
Genre: Fighter
Length: 30 minutes
Assault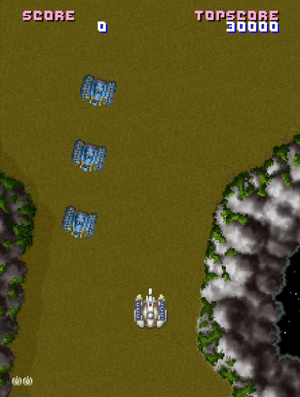 By:
 Namco
Year: 1988
Genre: Shoot 'Em Up, Simulator
Length: 30 minutes
Asteroids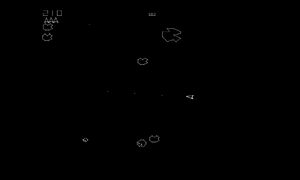 By:
 Atari
Year: 1979
Genre: Shoot 'em Up
Length: 30 minutes
Astro Blaster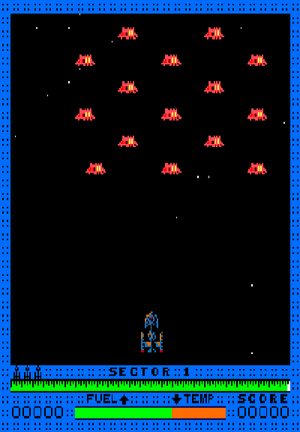 By:
 SEGA
Year: 1981
Genre: Shoot 'em Up
Length: 30 minutes
Atari Baseball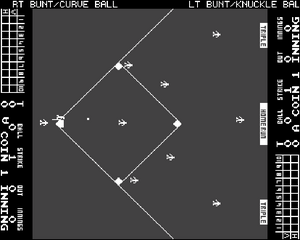 By:
 Atari
Year: 1979
Genre: Sports
Length: Until you get bored.
Ataxx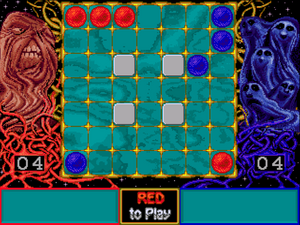 By:
 Capcom
Year: 1988
Genre: Puzzle
Length: Until you get bored.
Aurail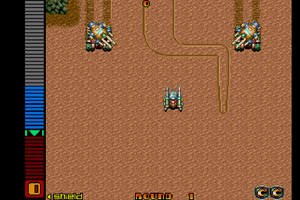 By: 
Sega
Year: 1990
Genre: Puzzle
Length: Until you get bored.
Aztarac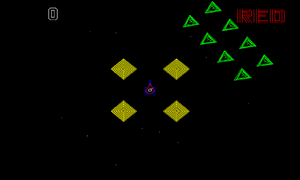 By: 
Tim Stryker
Year: 1983
Genre: Shoot 'Em Up
Length: Until you get bored.
Badlands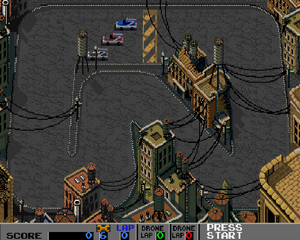 By: 
Atari
Year: 1989
Genre: Racing
Length: Until you get bored.
Balloon Brothers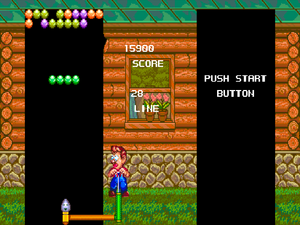 By: 
East Technology
Year: 1992
Genre: Racing
Length: Until you get bored.
Tetris… Except upside down? Is it only Tetris except upside down? At first I thought it was a lame spin off from another similar Capcom Franchise but all it is a Tetris upside down with balloons! On top of that it is really easy, imagine a Tetris in which you get a line piece every single time and the only challenge available is the speed of them falling, and even when they have fell, you have an extra momentum to control where it falls more so than other Tetris clones. Oh, did I added the fact that on top of the numerous line pieces you can get, there are instead of normal 4 line piece sometimes there are 3 to 1 ones? A single balloon. A SINGLE BALLON. Yes I'm sure I'll be able to fit this piece that hardly does anything thank you.
Honestly, the final idea of Tetris upside down and easier simply floats away and pops from going to high up.
Baluba-Louk No Densetsu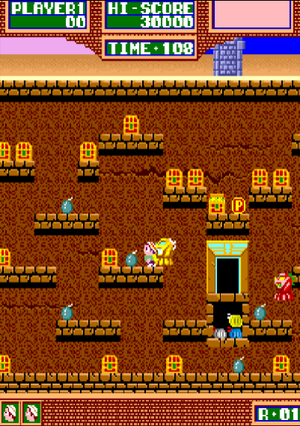 By: 
Able
Year: 1986
Genre: Maze, Platformer
Length: Until you get bored.
The combination of both a platformer game and a maze game, the result is possibly if Pac-man and Dig Dug had a son who later on invested his funding on the platformer university and got himself a jumping degree.  The game is very simple at first glance (if you haven't putted your quarters yet to see the demo and spoil yourself of the discoveries); all you gotta do is collect treasure like Pac-man collects pellets. But if you jump under the treasures you can gain some pretty good weapons and unlock more items (or just a simple bomb), my first time playing the game I just got the chest avoided the enemies, try and TIME perfectly the bomb explosion to hit the enemies without knowing some chest would help me out with more bombs. It's dig dug part only really comes in with bomb timing that reminds me quite allot of Dig Dug's rocks.
Well if you ever wanted to play Pac-Man as a platformer this game is your chance.
Bank Panic
Year: 1984
Genre: Trigger Timing
Length: Until you get bored.
Your goal is to stride from left to right using 3 buttons for each of the 3 doors that show up in the middle it seems that if you shoot someone too early without them raising their gun you get less points than the usual for being unfair! The level difficulty progression gets harder as people giving you rewards might be bandits disguised.  
When the times ends and stuff it seems confusing atleast... Like everyone simply was waiting outside and tried to sneak on me through the doors, who thought this was a good idea for someone who might be trigger happy hunting for some bandits?
Honestly this ended up  being one of my favorite trigger timing games of the west due to its variation as it gets trickier and trickier. 
Baraduke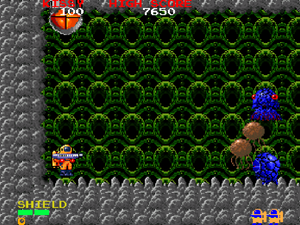 By: 
Namco
Year: 1985
Genre: Shoot 'em Up
Length: Until you get bored.
Baseball Stars 2
By: Namco
Year: 1985
Genre: Shoot 'em Up
Length: Until you get bored.
B-B-B-BASEBALL. More or less the sequel to the NES game that was made back, this IS lovely I must say. Decent animation, quirky teams and amazing (Well, subpar to say the least) voice acting given by the narrator considering each step of the game he narrates. This such a nice looking baseball game. Not only that but it`s EXTREME And straight to the point, really fast and responsive. The soundtrack is amazing and hilarious to. THERE`S NOT MUCH TO TALK ABOUT BASEBALL GAMES BUT TO SAY THAT THIS IS An AMAZING SEQUEL WITH AMAZING ANIMATION AS MASTERFULLY DONE BY SNK! For sure this is the only baseball games that makes me cheer for the fact there are amazing portrait animations. Considering even I who am bad at baseball games got used to it loves it. Truly one of the best baseball games ever made.
This is a baseball game that hits run perfectly into my heart and will be THE Baseball game. Now if only I got good at baseball games to fully enjoy this game.
Batman
By: Namco
Year: 1985
Genre: Shoot 'em Up
Length: Until you get bored.
I`M BATMAN. A very simple left to right fast 2d beat em up game, from time to time batman will spew quotes from the movie and randomly beat anyone he pasts through. I`m not even sure if these people are criminals, sure the ones with guns are but batman is literally just going fast street to street punching everyone. After beating a level you get a quick hint on what to do and you`re already to the next. THIS IS A VERY quick game and you hardly have time to figure out the mechanics.
It's a decent movie game but i can`t feel it's a bit too fast and too short while it does deliver quite a lot in seconds it is still a cheesy game at best.
Battlantis
By: Namco
Year: 1985
Genre: Shoot 'em Up
Length: Until you get bored.
Truly an odd concept for a Space invader clone, and maybe one of the very first considering it`s time and graphics, I guess you are a random guy with a gun shooting random mythological people of many types and fighting boss monsters. the music is great but quirky considering some choices for sounds
Battle Copter
By: Namco
Year: 1985
Genre: Shoot 'em Up
Length: Until you get bored.
An adorable and quite easy helicopter free roam shoot `em up. It`s cute mostly because of the music, but other than that you are a simple helicopter in an open world of sorts where you can shoot in all directions, you can shoot rocks to explore and uncover stuff and on top of that touching stuff doesn`t damage you. By exploding rocks you can mine for diamonds that give you money in which you can find some upgrades that you can use your money. If you go close enough to the ground your helicopter will activate land mode and be able to bomb the ground. You have a energy bar and that might make things easier but as you go more enemies will appear on the screen and give you a harder time.
This game is just a cute and simple great shoot `em up with some minimal exploring. I honestly do not know the backstory of this game for why this multishifting amazing helicopter is going around simply mining for money but again I think I am self-assured it is something cute due to the cutesy music and not something like blood diamonds in which the poverty of third world countries fight to aquire ores... I rather think of it as something cute. 
Battle Flip Shot
By: Namco
Year: 1985
Genre: Shoot 'em Up
Length: Until you get bored.
This game might seem like a choppy rip off of some sorts with some cheesy stereotypical almost non emotional stoic characters but AS SOON As you enter it's gameplay it completely FLIPS. Basically this game is PONG... EXTREMELY! Your goal is to eliminate all of the... Whatever is on the corner of your enemy (It's really cute because it depends on the character what they are defending). By holding one button and a direction you can do a power blow, by pressing another button you can dash and last you can also... Taunt? Which is weird for a fast game like this to have the time to taunt someone. Each character has their own extreme powers and the game is really fast paced. Animation is smooth (atleast in the gameplay and not in the introduction) and it's a fairly simple game.
If you need a quick paced game of pong with lots of personality than this might be what you want.
Battlelane
By: Namco
Year: 1985
Genre: Shoot 'em Up
Length: Until you get bored.
From what i got by looking around for a short time I'm pretty positive this is one of the many games based off mad max. A typical shoot 'em up The interesting trick with this one is that even when you eliminated an enemy their bike is still on the screen, considering if you hit your bike on theirs you fall over and lose. Quite a realistic touch.
Battle Rangers
By: Namco
Year: 1985
Genre: Shoot 'em Up
Length: Until you get bored.
The frame rate isn't really the best and the cutscenes sometimes will make people look like fish, but it has some interesting concepts going for it. For starters the music is quite kicking and has a lot of going for it, especially considering it has some experimental sounds in it, it sounds like the type of music that has really put its sound chip to its limit. The game is extremely forgiving though, you touch a enemy, you can stab him! That's mostly this game's most interesting feature. Outside of that I guess it could be the gigantic broken English. You know, I haven't stopped to see that MUCH Broken English in video games but this one has quite a hold up of some. You'll find bosses and what not and it's a pretty variative run and gun that makes you feel invisible sometimes.
IF you don't mind its frame rate issues, you'll enjoy it. 
Battle Shark
By: Namco
Year: 1985
Genre: Shoot 'em Up
Length: Until you get bored.
DIVING.... LEFT.... LEFT... You control a submarine... OR some sort of water based weapon that goes deep down into drown cities, depending on the level rises to the sky and a lot of enemy submarines and planes are there to stop you! You can shoot missiles at them but this game has a constant timing to it, you'll must use your missiles wisely and time their impact as they slowly reload due time and don't immediately hit a enemy ship, on top of that you can get a number of special abilities! If you take damage, your view will shatter like a window and this robotic voice (Which I'll get to later) will start to panic that you are near death. So it's kind of realistic in its own way but it doesn't stop for being a very fun arcade game with its bonuses and extreme mechanics. BUT THERE IS SOMETHING... This is a quite eerie game considering as you go, your submarine goes deeper and deeper to the sea and as you do this, a robotic voice in your ears is giving you info of this. This game is just eerie for the fact that it has a robotic voice warning you and advising you, truly. It's fascinating they managed to make a little robot voice in the first place but all it's telling me is the next corner of the screen an enemy might appear. This game is pretty great for sound design for these effects never the less! Not only that but the visuals in this game are quite impressive too, not to mention there are some little cutscenes thrown in there. The credits music is beautiful and brings a tear to my eye too.
But ouside of that it's a pretty excellent lightgun game in which you are a submarine. It has really interesting mechanics but possibly I will remember it for the OVERLY creepy robot voice that disturbs me to this day.
BATTLETOADS
DEAR MOTHER OF GOD NOW THIS IS BATTLETOADS. How come this version of Battletoads is not as famous as its other counterparts? IT's incredible a game that is as radical as this even exists. This is one of the most extreme Beat 'em Ups I'VE PLAYED AND IT LOOKS SO GOOD. Things will fly onto your screen. Sound is crisp and every single pixel is amazingly bordered with great animation. Each level is unique and the music is INCREDIBLE, it's not that hard and it's a fairly decent played beat em up out though most strategies in the game are solved by running and attacking, OUT though you have a great arrange of weapons to pick up that are HUGE, not only that but the mechanics are so well made and complex, by the end of the game you get chart, this is just a beat em up filled with amazing systems open for battle interpretations. It also seems like the game is seemed to be in 3d considering how much stuff is IN YOUR FACE!  ON TOP OF THAT IT WEIRLDY HAS A HUGE AMOUNT OF BLOOD? THERE'S SO MUCH BLOOD IN THIS GAME, THE TEXT IS BLOOD, YOU DON'T SIMPLY DEFEAT ANYONE, YOU COMPLETELY RIP SOMEONE'S HEAD? THIS IS MORE BRUTAL THAN A MORTAL COMBAT. HOW COME I NEVER GREW UP KNOWING THIS TYPE OF BATTLETOADS EXISTED. THIS IS JUST THE MOST EXTREME FROG GAME EVER MADE DEAR LORD. THIS IS ONE OF THE MOST EXTREME GAMES TO EVER BE MADE AND IT'S A FINE GIFT BY THE AMPHIBIAN GODS. BATTLETOADS..... BATTLETOADS.
BATTLETOADS.
Battle Zone
An impressive first person vector animated tank game, its truly impressive how this actually works and as you reach closer you can still stay closer to the bits of a tank falling. fairly simple but highly amazing for its technology.
BELLS AND WHISTLES
a konami classic
Berlin Wall
Yes this game is indeed representing the historic event of berlin wall, it's not a random title they got and then oddly coincidentally a historic event happened too with the same tittle. This... Actually starts representing the berlin wall... AND THEN... WACKYNESS happens. Yes it isn't really the best way to respect a historical moment it seems but it's a fairly decent puzzle game never the less (CONTIN)
Berzerk
Very simple, smiley oddie, a classic, very eerie.
Big Karnak
You play as a pharroh of some sorts, pretty simple out though a bit reppetive, it's also interesting that monsters do not die in one hit and enemies can become very variational
Biomechanical Toy
Now this is some surreal stuff straight from the European countires it seems. You are... Some non-specific action guy in a world of magic toys working for a magician to save the world from toy crime it seems. Nothing quite like what seems to be a typical action movie hero with guns going around colorful magical worlds left to right shooting. It's extremely colorful and pretty well animated, out though weird this is a very great run and gun game. You can shoot in any direction you please, many power ups and a quite a lot of mechanics suited for you to kill enemies as you please (you an jump on enemies). Some enemies will need more precausion at most of the time you will be shootinng in the corner to protect yourself, you have a really interesting health bar, you can also save some people that will help you along on each level. This really seems like something to be more of a console game rather than a arcade game considering it's straight up a great platformer, and you don't see that much! There's even checkpoints AND and a nice world map which is ODD for a arcade game. But this game is such a wack adventure it's visuals are quite amazing really as the attention to detail on the maps are great, some 3d elements will show up and enemies are almost never the same. My only real complaint for a game that is as wild and cool as this one is the fact that the audio quality is a bit dampered and you can clearly see the music department is one made almost out of loops stolen from actual old movies or rockabilly music NON-STOP. The cheesy bad metal music looping does add up to the crazy style though which is a plus. HM, I JUST GOT AN UPDATE... AND THE MUSIC IS REALLY STOLEN FROM ACTION MOVIES. JEEZ.
If you ever had the need to play a great run and gun platformer game in which it seems you are literally inside a surreal paignton influenced perhaps by 50s americanism, it's really a zanny game with lots of soul and effort. 
Black Tiger
Really fast paced
Blade Master
really nice animation
BLASTEROIDS
More or less an enhanced version of asteroids with more mechanics such as stage selection and energy fuel
Blazing Tornado
LADIES AND GENTLEMEN. A very great wresling game out though it suffers an issue many wresling games could have and it's a severe collection of button mashing. The concepts are simple, the tips the game give you are useful but that doesn't change the fact that almost everything has to be solved by tapping a button faster than the A.I. and it's raelly hard to keep a consistency so the ending results is just blisters! Most of the time
BLOCK HOLE
Also known as what happens when someone has the thought that's "What if we implemented puzzle games and shoot 'em ups?" of course the shoot em up part may look like just for show but this game actually requires a lot of shooting rapiddly, It's not exactly like tetris in which any block will do, it has to correspond to what comes up next in the order lines show up. It'
BLOCK OUT
CHALLENGE ME Yes, the concept was bound to happen sooner or later with the sudden surge of ideas of "what if it was 3D" but WOW! I feel as if they could a better job at doing perspective other than colors for altitude, not only that it does not show you where your block land, half of the time I WOULD immediately drop my block being positive I was dropping it in a very great location and yet the perspective was wrong and instead of dropping it in the bottom I managed to drop it slightly up. So yes being that the perspective of a TETRIS IN 3D GAME is not ok, the rest of the game would be A BIT hard to accomplish, it animations are cool, and the blocks turn smoothly but there are too many buttons to control the direction of a block, the only thing going for positive in all of this mess is the fact that it does give you some time to think, it is a bit slower than most puzzle games so you can actually process and turn your 3d piece block…But that depends on which level you choose! Some are way faster and have more pieces
BLOCKEN
A very fast paced vs. game which instead of the regular puzzle styles takes on the breakout style, it is very cute and very forgivable most of the time, you have a wall protecting you and everything is done in the art style of sailor moon. Even though its animation might seem choppy at first it seems almost everything transitions to each frame smoothly as butter, which makes me think they're using something else for the rest of stuff that isn't the badly animated center avatar of the character and enemy during battle.
BLOOD Bros.
Basically a western version of Cabal, supposedly a sequel to a Cabal too, not much has changed, not much at all! Yes it is very similar to that game in almost every aspect but what I can say is that it is still  an ROOTIN TOOTIN GAME. It's fast, it has a lot of items it's pretty fair to get used to, this right here is a light gun shooter classic. 
Bloodstorm
Holy moly! Would you look at that incredible cheesy looking CGI! Um, so yes this was seamlessly supposed to be the Mortal Kombat killer, to a point that I think the department has paid the original actor of Jonnhy Cage from Mortal Kombat to actually pose for a commercial promoting this game. Wow, I sure hope you getting fired of Mortal Kombat was worth it in a way BUT getting to the game. There's not much to say that this is indeed a Mortal Kombat clone but I guess it would nickpicking to say, in every round you see you the character actually die, yet in round 2 they come back. In Mortal Kombat you would only be able to see someone actually die at the end of round 2. And not this whole revival thing. Of course everything about this game compared to Mortal Kombat is like comparing a single Piranha to a Shark. Each button controls a limb and to be honest the game is pretty simple and fast to the go, that could be an issue for
The music is highly low quality and by far just someone doing an annoying loop.
One of the only interesting features would be the bad cgi mixed with the bad choppy animation because of the fact that you have a choice of super power, but other than it's pretty fast and I guess you control it but it isn't really a favorable fighting game. 
Bomberman World
It's way lot easier than Bomber Man though, most enemies go in lines for the sake of doing combos and what not out though they seem to have funnier reactions to seeing a bomb, unlike other games where they just accept them and it's more of timing, this game if the a.i. sees the bomb they will run away. The amount of powerups make this the easiest bomberman because it doesn't take much to clear entire lines without a couple 3 power ups you get. The design is definetely more emotional and silly  
Breakers
HUUUUUUUUUUUUUUUUUUUUOOOOOOO. Definetely better than street fighter, it's easier to get into, it's faster, it's combos are simple and it's hit boxes actually do things unlike some fighters that when you try and hit someone 3 times it won't let you. The variation of supers is incredible it's just, such an easy to get and go game and yet on the same time it manages to be a perfectly complex fighting game. Which is odd considering SNK usually releases more slow innovative fighters, this one is a bit of a better improved Street Fighter 2. The animation is great, the music is quite memorable out though I haven't given it that much thought. Almost every single character is as easily controllable and great to play as like Ryu or Ken. It's also a very nice touch that when you go against a clone, they give the clone a different name. Even the supposely slower than the common characters are easy to learn as it is pretty easy to dive in and do various attacks. Even the Blanka clone that is supposedly a cave woman (Now this I like to see, representation!) is super smooth to control. It is literally a game where every single character is a main character it seems, and it really goes away from the unnecessary bad need to make characters slower or faster, of course some variation is still there as some have different special powers or characteristics depending on attack speed, attack power, or length, only in attacks though which is incredible! If some move slower than the others it's really hard to notice as almost everyone controls smoothly. But yes it's still interesting to note how smooth it is to control each character.
This game is great for people such as myself who only seem to be playing with the fast type characters of fighters, this game is basically 100% fast characters.
BURNING FORCE
This might be one of the coolest looking games ever, look at that crisp pixelated wavey ground, the excellent smoothly animated 3d spheres you encounter, this is just a very coool and smooth looking 3d shoot em up, and it is sooo fun.
You travel seas, desserts and others locations for 6 DAYS (6 Worlds) with a futuristic jetski (Or general hovercraft) or airships to other transports. It is a very simple and in honestly acording to the plot nothing really drastic is happening as this is just a test to graduate you as a space army. During a day you'll change from your hovercraft to an air ship during to the other half of a level flying rather than on ground, while on ground hovering you can hit things that make you jump. There is a fair share of powerups presented but none of them cover as much ground as the default power up that if you upgrade lets you shoot an entire line making it easier to shoot enemies coming from left to right, unless you are controlling a ship, which I think does not help with wideness in terms of powerups... But on top of this all each end of an level has a bonus level that the mission is to glide perfectly through all the spheres and get points. Bullets will instantly kill, but bumping and what not only takes a small amount of your health gauge, you come with some limited missiles and they spread, out though it's a bit hard to find more missiles. The graphics are amazing as things will pop out of the floor, showing little water explosions and the like, in the dessert enemies will drift and do clouds of sand, animation in general is smooth and the explosions are great. The music seems like your typical shooting music done with a sega genesis chip at first but when you get into it is and you do notice it you can see there is clearly lot of effort and it's a straight up funky jam that is vibrates a 80s feel. Some may even go through to giving the great soundtrack a second listen, especially if they finish the game.
It's a very decent shoot 'em up and if you really into 3d shoot em ups like burnout or space harrier which in comparison this one is more refrained and have a cuter protagonist than this game is definitely for you, especially considering if you enjoy presentation, this one has the best of them all!
CADASH
Yes the idea of an RPG game as an arcade game is a weird combination, especially an adventure game where you go to towns and talk with people like honestly this isn't really fit for being an arcade game, the graphics for its time also do not excuse its existence on arcade systems as this could be easily ported to the Sega Genesis. Or you know, not be full of itself and do a game on the NES. It would have been fine there. But atleast it isn't fully RPG, now that would be a bit zanny! Out though card and trivia games are common the Arcade, this would actually seem common. Either way it isn't entirely an RPG as it's mostly a platformer at heart, but it still fusses me out the fact that the simplest dialog will still take away time from your clock, like it simply does not fit with the aspect of Arcade design!! The game itself isn't all that good and it's animation and combat is actually pretty choppy considering even Shinobi would do a better job. I say that because there is actually a ninja class in this, outside of that there is a warrior, a magician and a priest. Each with their own speed and playstyle, this game also has great Co-Op which is what most of the fun may come from, alone it is just a damp experience though, but the idea that 4 people can play this somewhat medium sized platformer RPG at the same time is insane! You do level up with each enemy you can fight but it still a bit stiff in terms of gameplay and there has been faster platformer games, it plot isn't that important either as it's your typical fantasy and the music has that tedious lazy rpg feel.
This is obviously more likely the type of game that would appear only in consoles, and later did (Who would of expect) but it also is a popular entry to an opened odd trend of RPG with platforming like Zelda II. IT isn't the best game in its categories and in general it could be considered boring but it's co-op could help you with that. 
Cadillacs & Dinosaurs
GO! GO! GO! Well, for starters this concept is definitely one's definition of pure awesome. This is a game based of a comic series in which of a post-apocalyptic future where dinosaurs have came back while humanity was living underground, you don't have much of a goal other than survive in the outside world by beating every person in every single level, you'll go against dinosaurs, mutant dinosaurs and in general raiders. There is not much coherent plot, but it seems your team from time to time saves dinosaurs being abused by raiders and from time to time you get more goals inside the game as a mad professor is mutating dinosaurs with people. You can acquire guns such as shotguns, grenades, you'll drive cars (OBVIOUSLY CONSIDERING THE TITLE), go against half-human, half-dinosaurs that are weirdly mutated from these weird blobs and do much more! The characters you have to choose from are pretty balanced and show each of their chats when you select them, and even give you a title to help define what type of character they are. The music is EXCELLENT, smooth synth waves and great action tunes, the HQ sound is definitely something to be noticed as the character's voices have an echo effect and about everything has aswell! But my god the music is simply done a perfection in this game, the build ups and memorable music waves are what make this game the music the most memorable feature, of course other than driving a Cadillac in a post-apocalyptic future FILLED WITH DINOSAURS.
It's a great beat em up with amazing moments and quite a lot of crazy situations given by the level and by the enemies but it's a bit repetitive considering your pattern of attacks is not the most variative compared to its rest of capcom games, but it is really fast in its positive point, It is best compared to another game of its kind made by the same people, Captain Commando as it has almost the same features but It is a bit faster than Captain Commando it seems! But it still a timeless classic like Captain Commando because of its fun levels and simple gameplay, with not only that but an AMAZING Soundtrack.
Captain Commando
By:
Capcom
Year: 1991
Genre: Beat-Em-Up
Length: 30 minutes
Players: 


You know, for a 90's Capcom beat-em-up… This game has a lot of gore and violence in it. It amazes me how violence this somewhat kid-friendly game can't have inside it. Contains allot of smoking, gore and blood and actual realistic guns. Well anyways, Mega Man wasn't always Capcom mascot of choice, Captain Commando (get it, Cap… Com) was one of Capcom's mascots in terms of commercialization In America. Capcom actually thought of making he's first official game with this arcade beat-em-up and it's not only Captain Commando but other 3 characters such as: Mack, a MUMMY which is ALSO A ALIEN with some 90's clothes and 2 knifes, Ginzo, a generic looking ninja that isn't that fast compared to other characters in the game EVEN though his supposed to be a Ninja, Baby which is a BABY controlling a DAMN HUGE MECHA ROBOT(Wait until you get to control a baby controlling a robot controlling a robot in this game when you get a hand of a random MECHA in the game). But for me it doesn't really matter about the other 3 characters they are all inferior in stats compared to Captain Commando. You go around the streets beating up bad guys with mask that are usually chillin', taking a smoke or something and you go and beat them up for no reason. Gameplay is pretty similar to Final Fight, but each character has their own ATTACK+JUMP move and you can grab lots of items on the floor which were dropped by an enemy that will help you, such as a M16, a Bazooka or a Pistol… All Realistic looking guns for a beat-em-up if I do say so myself… You can also enter MECHA robots when you knock out an enemy inside them! Anothing thing that is super violent is that when you actually get knifed blood comes out and when you defeat someone in the game with a knife or sword like wielding character the enemy will be chopped in half and show his body actually sawn in half with blood. Seriously one of the most violent Capcom Oldschool Beat-Em-Ups in my opinion. Music is a bit repetitive because it's one of the type of music that gives you a SUPER HERO feeling yet the theme gets kind of boring after the first stages.
I feel that this game itself is a joke made by Capcom, full of cheesy characters and crazy wacky ideas! The concept of wearing robot suits or using weapons in a beat-em-up is tuns of fun and in the end this is a pretty decent game with tons of hilarious moments.
Captain Tomato
This game is also very innovative for being a shoot 'em up with boxing rules! It's a bit hard to explain but the great tutorial at the start shows it's all!  Give em a little LEFT AND RIGHT! Yes apparently if you use one of your first a couple of times it will make the other fist more powerful, what does tomatoes have to do with boxing? What's Captain Tomaday even captain of? The Salad Starship? Hehehehe. I'm not entirely sure about any of these reasons, but it still a very fun concept for this silly cartoonish game. Also medicine pills are your powerups in this game that turn you smaller or bigger… Ok. Yes this game is pretty much randomized from concept start to concept end.  You can get lizards as your shields to shoot extra bullets and you can transform into 2 monkeys throwing bananas. The game itself cannot even handle its own rules that the tomato is the main character as you constantly can transform into things that aren't even a tomato. As for game design, it's a shoot 'em up but it's not technically a shrump, it's pretty simple in its own way as it is childish because I guess it's accessible to kids as well wanting to play shoot 'em ups but be warned as the enemies are for ARE REALLY fast. The music IS AS CHEERFULLY wacky as the game is but can barely be heard sometimes with the number of bullets and punches you release. I guess as a simple complaint the backgrounds seem a bit damp and the game in general could be considered low budget even if it's colorful as hell and innovative. But it does contain simply animated enemies and sometimes they're even in cgi that happen to either shapes, babies, peanuts or a can. Plus mechanical vegetable!
I don't want to spoil much but as an end you can literally transform as 2 plotted plants shooting around cartoony locations. This sure is a lot to ketchup on what the hell is going on but it's a decent game. Don't expect too much from this simple wacky game unless you'll feel like a rotten tomato. 
CHILLER
EW EW EW EW NOOOOOOO. WHY WOULD ANYONE PRODUCE SUCH A GAME THAT IS SOLEY ABOUT TORTING INNOCENT PEOPLE IN A RAIL SHOOTER WAY, UGH THIS IS DISGUSTING THE GOAL OF THE GAME IS TOO SHOOT THINGS TO SET TRAPS OUT TO ACTIVATE TORTURE IN SOME WAYS.
Why would anyone bring themselves to do such an atrocious production to such a friendly concept such as video games, I'm glad this has been banned in many places but it got made on the NES too! This game is simply sick and all you do is shoot innocent people trapped in dungeons, it doesn't even feel that much need of a goal It's simply terrible in all ways.
COSMO GANG THE VIDEO
I GIVE UP! Oh my god this is so adorable! I know it's a common thing to turn a franchise into an adorable thing but I honestly would of NEVER expected It to happen to Galaga. Why? Well galaga is hardly touched most of the time, there isn't that much Galaga reboots as there is Space Invader reboots or in general keeping it relative Namco reboots. But this is just a weird shocking feature, there has been a lot of reboots like this but this one takes the take for the weird title "Cosmo Gang The Video" It's fairly simple too, it's not as wacky as other reboots which makes it even cuter, what I'm getting at is that it doesn't try that hard and it has a consistent style to go with. Wait a second, this isn't even particully related to Galga, it's a reboot only in soul but apparently it's based off a redemption game by Namco and this is the first time it goes into the video game department… As a Galaga reboot. Alright… I guess. Technically all it is a faster version of Galaga, weirder enemy patterns, mini-games, squeaky sounds and easier ways to defeat enemies with powerups that literally if you put in one place can erase an entire row of enemies. It's galaga with cute frogs! But truly it's odd to see galaga this simplified once in a while but it's super fun and has moderate powerups like shield and double shot with also the inclusion of those crazy powerups that clear entire stages I mentioned before. The animation is smooth as you can really see little enemies frog dance and what not, the sound quality is also a great feature but it's really weird to see "I GIVE UP" or "OH NO" said by a very deep voice when you clear enemies that happen to be cute frogs. It's extremely hilarious though. The music is very catchy, sometimes it may seem like a random build up music with no end but other times it will be a very pleasant melody you'll remember.
This is a very cute version of Galaga based off a weird one off franchise by Namco, it is definetely worth the try if you ever wanted to see Galaga in different speeds and styles. I mean… The frog enemies dance for crying out loud that's the cutest thing ever. 
CYBATTLER
A more free-roam shoot 'em up with some great war presentation and an interesting ammo mechanic. When you shoot and hold you manage to keep a shooting position but if you left go you'll go into free roam mode, considering this game is fast you'll be constantly going to each side of the level trying to get some space to get a good aim to shoot. It's a constant struggle but thankfully you don't die in one hit in this game as you have a health gauge. But yes one of the main innovative thing is that your gun ammo is running on energy, energy that replenish itself over time, if you don't shoot for a while it will recharge ammo faster but you can keep shooting until you don't have ammo which isn't advised because it WILL TAKE A WHILE TO GO BACK UP AGAIN. But that's not all, you also have a sword for melee attacks most of the time and after each level you gain a different type of gun to use. The variation and constant actions makes this game charming and memorable. It's visuals are great with its attention to detail on the mechas and the fact that when you use a sword you can actually see a robot being chopped in half!
This mecha shoot 'em up has some great sci fi survival things going for it; it is essentially the closest thing to mecha space war simulator in the arcades! It is truly an amazing game. 
==Cyber-LIP ==
A bit slow paced compared to others of the run and gun genre clearly but still a very decent and simple game, cyborgs are attacking the planet and you have to go in and destroy them and discover who is doing all of the evil cyborgs, considering this contra but in a much slower way. In fact the more I compare it to the Contra the more I think this is more or less of a missing link of SNK deliberately taking on the run and gun genre, the difference of the most of them is that you can actually hold onto 4 weapons at once and change to them any time you choose. Outside of that you can enter buildings to gain more ammo. You can't really shoot in all directions even if the tutorial tells you can, but some weapons have range to the upper right more than others. Also in addition due to it's odd timing and velocity it's a bit hard to get into dodging bullets or reacting in general quickly as enemies can simply run into you and kill you in one hit, the pacing is just pretty bad.
It isn't the best run and gun game but it's a bit slower in comparison to others but it is still a very decent game on the side. 
DANGUN FAVERON
Well, I'd like to begin saying that funky music as first level music… On a space shoot 'em up precisely is always promising for a good game, which this one is! But really throughout this game the entire theme is disco, I'm not entirely sure what concepts this is about but really why Disco of all choices for shoot 'em ups? Even so, this is a very solid shoot 'em up that is clearly one of the highest budget. The graphics are amazing and the little cgi particles and shapes are great, you can choose your type of shooting with your type of ship and your type of speed with usually 3 choices each! To gain points you collect orbs with spinning people on them, and each ship has a different type of pattern for their bombs considering each will be a disco person as an attack… Yes it is a fairly amazing shrump game with a very big budget but what's the deal with this disco.
If you ever need some Saturday night bullet hell fever this is probably your only choice mean there isn't really high budget refined disco shoot 'em ups, go away you get no puns about disco. Oh but it's worth saying the game is made by the creators of the DonPachi series which shows! This is technically DoDonPachi with disco. 
Darius I & II

By:
 Taito
Year: 1986/1991
Genre: Shoot 'em Up
Length: 30 minutes
WIIIIIIIIIIIIIIIIDER. All I can say is wow because this has perhaps the best looking graphics for it's time, but I can also say WOW THIS GAME IS INSANELY WIDE. It uses 3 cabinet screens, like was that really necessary? It does give a great view though and it is indeed a interesting perspective, other than it's a pretty great shoot 'em up, a bit slow in some occasions but it has 3 sections of power ups you can get being ARM, BOMB and MISSILE. Other than that you can get a shield and boy does that shield look so impressive for its time. Like really the graphics in this are AMAZING. The smoothness of the screen scrolling is one of the best parts. Outside of these typical rules there is an innovative aspect which is separate paths. THERE ARE 28 LEVELS AND YET ONLY 7 ARE ACCESIBLE ON ONE PLAY. Making this game QUITE big (like the wideness of its screens) and giving the game lots of replayablity. The soundtrack is typical but is very noticeable for having weirdly avant-garde as the theme song that actually had a success of its own. The audio quality of this game by the way? Excellent, as your player may go to the other side of the screens he will go from left to right in audio as well. The audio quality in this game is just by far so subpar and fascinating.
This game is quite the historical achiever with it's pretty cool original aspects but to be honest it is a fair and simple shoot 'em up at heart when you take all of its ground breaking elements that are only related to its artistic merits.
I also want to consider this a double review by saying the sequel is about the same but with some quirky dialog and perhaps a better music selection and also better audio effects with actual dialog and even better graphics!
DECO CASETTE
DECO Cassettes are something from Data east that was basically the first idea made into reality of "What if we made an arcade cabinet that alows people to use it as a away from home console in which people can come to the bar where the arcade cabinet is and bring their own game" The games would be sold differently in other places on cassettes, after putting the cassette in the DECO cabinet you would have to wait 3 minutes. I repeat 3 minutes to play a simple version of a game like Tennis or soccer. Games such as Boulder Dash and Burgrtime would later be featured on their own but wow... 3 minutes for a simple arcade game. I am only putting this here for the sake of showing that the idea is simply crazy and I've played the mediocre simple games. It simply isn't worth waiting 3 minutes for each game. It is a great example of how some games can go up to crazy heights back then to boot up. Of course if this cabinet was hosted at a bar I think I would end up ordering a drink and putting it on top of the cabinet waiting.
320 SECONDS…. WAIT UNTIL TIMER HITS 000 TO START GAME.
DEMON'S WORLD
You control a guy with shades going around shooting ghosts and ghouls in a city! Very overly simplistic but cute in its own way. It reminds me a lot of all the super early run and guns games (which this one is probably too). There's not much but you can double jump! And there is also some infinite powerups. You don't go around killing that many demons as you kill more childlike fantasy monsters or ghosts, some being Chinese mythology ghosts though. Which all seem kind of odd in comparison to your super serious main character that has shades and may or may not be a neglected Ghost Buster that uses actual missiles rather than something designed for actual ghosts.
The game is simple as hell and easy as hell too, it isn't really a visit to the burning pits of hell though as you seem to just be a regular traditional double jumping guy with shades shooting mythological creatures around. It's an easy game to get into, but there isn't anything very special about it. 
DISCS OF TRON
It is possibly one of the best Tron arcade games ever, you can move your character and you control the aiming of where you throw discs. You'll lose by getting hit off a platform but it's easier to defeat enemies considering they die with one hit and do not take the struggle of trying to remove them from a platform, you'll go from being on 1 platform to 2 to maybe 4 and eventually have more space to avoid keeping in mind that the enemy also has a mirrored scheme that makes it harder to aim. On top of this all, the audio effects are quite superb considering the robot voice that you can actually hear get mad at you throughout end of matches.
It is a an all-time classic and the simple game at the first, but gets harder to control as it improves and more obstructions come into play, this has all it takes to be a great hit and an addicting game.  
DoDonPachi
A sequel to DonPachi in fact, which most not know for the fact considering the DoDonPachi got way more famous to a point nobody knows the first. One of the most famous biggest budget shoot 'em up  that happens to be a shrump games on the market, with gorgeous graphics considering I think DoDonPachi was possibly the first to bring in explosion cgi particles (that later became a really big thing in shoot 'em ups in general), lots of enemies on the screen, huge bosses, 3 ships to choose from with each shooting styles and after that some other options of guns, (out though lazer would be the easiest choice considering it's just a big beam that will wipe out an entire screen of you move left to right it hardly is an option). The soundtrack is this extreme rocking soundtrack which goes through out many non-stop riffs.
DoDonPachi is a very famous shoot 'em up and it's possibly gave a standard to many of the future type shoot 'em ups as there are many in Cave's style, some made by Cave themselves to begin with. It is obviously worth the try if you love shrumps because this one is one of the best.
Double Dragon (NEO-GEO)
Well for starters it's very surreal to consider Double Dragon being made in vain and exactly like a SNK Game, it actually makes Double Dragon look good from all the mediocre stuff they released throughout the years hahahahaha. BUT SERIOUS, not only is this a weird combination of style and franchise I immediately realized (And confirmed later) that this is not based on the video game but based on the 1994 movie. I knew of this because Billy inside the game drives a car into a stage, the same futuristic car that looks like the same exact car from back to the future inside the movie! It isn't the best Neo-Geo style fighting game considering it is a bit similar to street fighter (not that isn't bad some clones are even better) but eventually ends up being slower than the regular neo-geo game, there is some innovative mechanisms such as being able to attack someone on the ground but it's hard to pull off. It also has an odd transformation mechanism too that allows you to become more powerful when your gauge fills up and can only be taken away when you die or your opponent does. You have this typical set of 10 characters which are pretty fairly balanced and one of the most fun parts to look about is the fact that each character has their own crazy intro, like I mentioned before Billy comes in a futuristic looking car. But on top of this all the A.I. is really hard!
It isn't all that bad of a fighter especially considering compared to REALLY bad entries in the Double Dragon feature, and it's cool to see a 90s influenced fighter more than anything in the neo-geo style. It isn't really mandatory but it would be known to be Techmo's last game as they soon bankrupted shortly after the release of this… A year later actually after releasing 2 more neo-geo system based games.
DOUBLE DRIBBLE
OH SAY CAN'T YOU SEE.
DRAGON BREED
You ride a dragon.
DUNGEONS & DRAGONS SHADOW OVER MYSTARA
How did they make such a huge game like this to begin with? It's exceptionally an incredible excellent game but how did they manage to do this transition to the arcade? Either way this more or less a sequel or a part 2 to Capcom's other Dungeon & Dragons game that is basically the same scheme of controls and gameplay that came out some 3 years before this one but a bit more rusty compared to this amazing sequel that improves graphics, the number of characters and the quantity of action and what to do. You could play this game again and again and you would have a new experience considering branching paths, the use of great items and the variation of amazing characters make this beat 'em up timeless. You can use power ups among actively getting magic items that you can look up with a ring of items similar to the one in Secret Of Mana. There is a great story line but I never cared for it that much especially considering I haven't played the first game and this is supposed to be a continuation of what it was doing, but the dialog is pretty fun never the less and shows even more effort. Going to gameplay it is about perfect, you can do dash moves, you can run in any direction perfectly, you can gain quite a lot of skills; the A.I. is smart and can actually block your attacks. As for Dungeons and dragons it does justice to the series as many things are present from the series. There are hidden runes, there are places to buy items and, the shop keeper can give you hints that you may know to prepare on what is on the next level. It's a perfect game with action that's great and almost everything good on all styles. The music is also masterfully done reminding quite a lot of Final Fantasy and even games like Zelda making it very well composed due to the calm melodies and typical fantasy action music.
This game has quite a lot of remakes and packages recently you can get easily if you want to play it, and I highly recommend a play through one of the best beat 'em ups and especially Doubles and Dragons ever made. It's very hard to find that much beat 'em up with RPG mechanics done this perfectly out though there has been other occasions, this is one of the most popular ones, especially within the line of Arcade games considering this one has possibly the best replay value of any arcade game ever made. 
DYNAMITE DUX
With other than the fact that it is awfully dumb looking to a creepy point in a way that, it doesn't really feel that good in comparison to the original design it's taking, whatever is "main character duck simply doesn't give a duck to what is the duck is going on" is in terms of character design, the game is really stiff to be honest and it's a bit too slow paced for which suits it's quirky style of moose and dogs without limbs trying to attack you and somewhat political commentary crazy looking wolfs with army equipment. It does give you a helpful map to when and where the level will end, probably because people get anxious at the idea that it the dynamite dux will never end, ain't that a quack. Other than the gameplay feeling really stiff the only innovative thing is being able to charge a punch and jump kick. You get rocks and other weapons later that makes it easier and don't take away you from the fact that you can always get attacked but STILL. VERY BLAND.  
It's fairly short and can be better experienced with your exactly the same duck friend of the other color but only for the quack of it considering the experience is funny to an amount and the designs are pretty quirky in an empty voidless sense.
Eco Fighters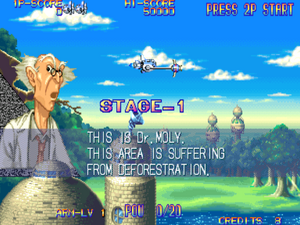 Capcom
Year: 1994
Genre: Shoot 'Em Up
Length: 30 minutes

LET'S GO! Simply one of my favorite Shoot 'em Up arcade game. The entire concept of this game is one of the weirdest ones I have ever seen to make a Shoot 'em Up about… Saving the environment... Yes you heard me. SAVING THE ENVIORMENT. You play as a boy in a blue ship or a girl in a pink ship (if you're playing second player) which is on a mission from Dr. Moly (pronounced DOCTA MORI) to defeat Goyolk from ruining the world with his pollution and machinery. The game is fully voice-acted, when you get an item, the announcer with a child-like Japanese voice tells what power it is, when you start a mission Dr. Moly tells you about the level and your main goal. Animation is amazing in this game and very detailed, about every stage starts off colorful and wonderful and then becomes all grey and brown later on in the end of the level when you reach the part with pollution and the boss of the stage, the animation reminds me of Mega Man in terms of style and I just realized it's made by the same team that did the Mega Man arcade games so it isn't similar for nothing. Gameplay is unique due to the fact that you can turn your shooting range in 360° directions, and you have 4 cool powerups that come in a bubble and each powerup has their own charge attack and way of shooting, in fact the laser one doesn't even shoot at all, you could freely liberate your hands from the shooting button and just use the 360° buttons other than the shooting the levels themselves are pretty simple and nice, most enemies have a excellent introduction like spinning or going in patterns, all of the mini-bosses inside the game are well designed and remind me of Mega Man designs with the tendency of looking like robotic animals, at end of the level you will fight a boss that is USUALLY huge(there is a level with one of the smallest end bosses I have ever seen) and the goal of those bosses are to shoot it's weak point that is there diamond. The music is perfect, it has a great adventure, cheerful and heroic feeling and it is catchy as hell, the type of stuff that would never leave your head.
Yes, the game feels as if it was Capcom entry for the whole Eco-friendly bandwagon in the 90's. But that doesn't make this a bad game! On the contrary, it's one of my favorite of all times Shoot 'Em Ups for the Arcade. The game is insanely hard and you WILL die allot but the cheerful Japanese Child-Like voices, excellent music and great animation will keep you coming back. Save the environment or Dr. Moly will be disappointed with you.
ESCAPE FROM THE PLANET OF THE ROBOT MONSTERS
This game is a constant hassle and I would never see it for being fun for the fact that you cannot simply control it to begin with, the control scheme is made for a multitasker obviously but really this is a game where you can't stop moving forward and if you do stop moving forward to let's say shoot a row of robots, a tracking device will be put on you, there is simply no way to stay in a state of comfort in this game, and for its difficulty it's not even that good, there has been several isometric shoot em ups with the save the victims, kill rows of enemies scheme but this by far has done it the worse.
It's quirky style doesn't help ok, the control and mechanics are really impossible to get used to. 
EXPRESS RAIDER
Like the title ensues, it's about a raider who's to steal a train, and wow what a raider it is because it will literally go 1-on-1 with some many of the supposedly crew to get to the ending. The game is actually fairly easy to be honest, mashing buttons is a way to win in this game but kicking seems to usually do the job alone. You go through sequences of 1-on-1 battles on each screen, these battles will make you duck, jump, kick and avoid abnormities in the background. Think of it as an improved version of Urban Fighter in the west because most of the time you'll be throwing someone else out the corner. You can both punch and kick and your progress of the fight is determined by a bar, if it goes all the way to the opposing side you win, so the health system is basically that. Other than that after each successful train walk you get on a horse to a super hard shooting section which is almost impossible to avoid bullets, you can hide behind your horse and shoot. You're progress is determined by how many you shoot and also can be solved by mashing buttons because you seem to shoot bullets.
What gets me is the fact that you are a single raider and achieving this all by yourself, but yeah it's a pretty decent game out though a bit hard in the in-between shooting sections. Also it's pretty easy considering its mostly in favor of going all in with mashing buttons. The game itself can be really creative with the variation of enemies and backgrounds. 
EXTERMINATOR
For some little background for no reason, the game is created by Premier Technology in 1989 for the arcades, for a bit of backstory on the game, the developer "Premier Technology" is actually Gottlieb, a regular arcade cabinet publisher and apparently going through some harsh economic problems, they have developed a number of various arcade prototype games during 1984-1989 with no results at all due to not being purchased by the investors. In their last breath they decided to release Exterminator under the name "Premier Technology" hoping for a new fresh start. The title "Premier Technology" was simply a once used name. There's not many information on the game on the internet but the creators of the game where known somewhat to publish some Q*Bert machines.
WELL Going onto the game itself, it is obviously very weird, you control an several hand that shoots lasers from the fingertips when moving to the side of the screen, in the middle you have the option swat and crush. Some enemies are defeated in their own ways. The controls are very awkward and very hard to get used to but they're a very big variety of enemies introduced in every sub-level and 7 whole levels with 5 sub-levels each! You can tell some of the props and animations are made with clay which is quite adorable and charming. The game all around is quirky from the sound effects, to silly music, to how absurd this is for basically creating quite a lot of parody companies. It gets a bit repetitive but it's only 10 worlds being 10 houses!
I recommend this game for everyone ANT even if the puns BUG you it's a qualiBEE game. To be fair it's pretty decent in its own mediocre weird way but sometimes it can get a bit out of hand. 
FANTASIA
Fantasia, a series of porn Arcade games with bootlegged portraits of famous faces in popular culture with an actually cool looking engine stolen from Qix (A revolutionary game with the concept of drawing squares to gain more space until there is no more space). Weirdly even that's not a direct copy, as this is a copy of a wacky Japanese game that's also a porn game that happens to copy Qix as well….. If you fail during the game, pictures of graphic gore show up in the screen, wow… Really something. Other than that the sound effects are weird moans and the music is old dad rock. Fantasia also lets you use your portrait as a middle western dictator against Fester… Fantasia.
It's bad.
Formation Armed F
By:
 Manjyudo, Nichibutsu
Year: 1988
Genre: Shoot 'em Up
Length: Until you get bored.
Forgotten Worlds
A Capcom classic. 
GALAGA 3
So yes apparently they run a series for Galaga.  The truly underrated sequel to end the trilogy of Galaga honestly, I'm reviewing this here never the less because this surprises me really, I honestly never knew there was a Galaga 3! They never include Galaga 3 in NAMCO collection bundles for starters and what gives with the changing the title game out of nowhere? It goes like Galaxian à Galaga à Galaga 3… What?! But to be fair, it was released as Gaplus aswell! Which is more fitting honestly, it isn't that much of a sequel but more of an improved and easier version of Galaga. The only difference is that from time to time you can get a beam powerup that lets you catch other enemies, catching those enemies will allow you to shoot 3 times! It makes the experience way much fun, especially considering how in the other entries you for you to SIMPLY GET 2 SHOTS you had to do this wild sacrifice trick that took a long time. The rainbow stars in space are smoother going and you can actually see what your enemies look like now (being weird alien flies)
It's a great addition to the series with its improvements, but it's quite a pity it ended up being so underrated and didn't get it's spotlight it deserved. 
Wait... Hold up, apparently there was a sequel after this called Galaga 88... Huh, released in 1988. It's about the same thing. 
GALAXY FIGHT – UNIVERSAL WARRIORS
This is an incredible looking fighting game that has probably been put wonderful effort to, the characters are well animated, the effects are amazing but there's only one issue: The drastic drop of frame rate, all of the stages in this game for the hell of it have 3d effects in them causing the game to basically almost die with its framerate issues. Really the framerate is that awful! The gameplay itself are very average and the characters aren't really original. It has some charm considering it's animation and space themes but all that charm is kind of lost when you actually play the game. So weird, it seems as if it would be an amazing high budget game.
The only space this game should of included is it's memory space considering it really needs it. 
GAROU: MARK OF THE WOLF
It is one of the more challenging SNK fighters of the series but it still incredible, possibly one of the best and most memorable SNK fighters too! The attention to detail to the animation, background and almost everything to even sound design is all perfect. This game pushes almost all the boundaries of the system possibly being the best animated game for its engine ever. The game itself comes with a health system that allows you to when have the best regenerating power, the middle the end or the beginning. When you your health hits the location you settled it up, you will gain additional favors as so does the CPU. The selection of characters is very balanced and everything is really and it's surprising to say almost all of the characters are mostly descendants of the fatal fury characters. It's probably one of the most well balanced games compared to a lot of fighting games and it is really fluent and technical with many selections of supers. The music is also great out though I feel as if one of them sounds a bit of like at one point Children by Robert Miles… Like what?
Possibly the best in the Fatal Fury series, quite balanced, amazing look and smooth controls that let you just get right in. 
GROWL
SHBROOM! This game is just the result of what or when an extremist ideal does an extreme game, you're goal it to save animals but in the most insane way ever, you'll grab rocket launchers, grenades, machine guns, knives and amongst to KILL pochers in all the ways possible and of all types. Like what the hell? This game is non-stop exploding action and for that it's a pretty decent beat em up. People will lift cars and seem like straight out of a post-apocalyptic scenario. There is just so much going on in this extreme beat 'em up.
Some parts of the game is annoying but the level of insanity and stupidity this can go to is enough to keep me playing for 30 minutes, it's also fairly easy too considering its easy to cheat out, you'll hardly die any time in the game. 
HOOK
Yes, apparently a beat em up based off a legendary movie about Peter Pan with Robin William exists, and it's pretty decent, odd choice for the genre though but considering almost every single franchise when on the arcade only has one thing (beat em ups) it isn't that surprising on the third thought. There's a lot of special attacks outside of the simple jump + Attack scheme most beat em ups have. It's graphics and style is really creative and there's a lot happening on screen, especially if you have 4 characters on the screen! It's a rare art style you don't see many beat em ups take care of smoothly, maybe a bad old DOS European game but.
It's a bit of a long game but it can hardly get repetitive. But it's surprising to say atleast a decent take on the movie HOOK even though it is kind of weird to see a beat em up about it. 
I, ROBOT.
It's a bit weird at first but you'll get used on what to do, it is mostly a game of paint tag where you control a little robot in this vast 3d world with pyramid eyes, you must stop moving at all costs when the eye sees you, but after that you can continue to mark red blocks! After that you go to a shoot 'em up section where you have to dodge asteroids and shoot at enemies, there are other gameplay modes amongst that considering this game has a nice rhythm and variation to it. This game is all about its presentation visually honestly, it's trippy its shocking it has charm and it's REALLY one of the weirdest colorful 3d games I've played. It's impressive to see stuff like this when mostly all there had been was vector graphics to achieve this 3d. It's just amazing how much polygon shading this can achieve! The game CAN be unfair but to be honest they do give you tips after you die and your robot tells you what to do in little speech balloons which are adorable. IT is quite easy honestly as all you have to do is waiting for platforming opportunities and be really careful with what your robot has to say.
It may be a bit hard to understand at first but after some entry minutes of playing you'll already know what to do, it is a spectacular polygon looking game and its fun as hell to see as it is to play with its amazing animations. It has quite a variation too and I extremely recommend those who want to play a cool simple trippy looking game. 
IN THE HUNT
It's an interesting take on shoot 'em ups for the fact that it's underwater with submarines and also for the fact that it's extremely beautiful.
There's a bit of frame rate drop at some moments. Very nice enemy designs and amazing animation, incredible detail, basically one of the best detailed pixel art to be made in that time.
Konami '88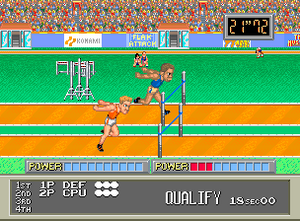 By:
Konami
Year: 1988
Genre: Sports
Length: Until you get bored.
At first you would think the only game is running challenge which never to say the atleast is not that much fun considering all it takes is 1 button and timing when to press it. Overall the games in general are really lame and don't take that much complexity and suffer from their simplicity.
No music, yet the sound quality of step are somewhat nice and so is the voice acting. Out though these it seems as if the CPU always has an advantage at the last second even though you think the same way it does if you learn from your mistakes. Guaranteed this isn't the game you would spend coins at if the very first game is solely about tricks when you hardly have any chance to learn.
MYSTIC RIDERS
Little fantasy shoot 'em up.
NINJA COMMANDO
This game is DEFINETELY A MIXED BAG OF IDEAS BUT It's pretty unique to see a isometric shoot 'em up with dodging and what not that is straight up ninjas that go back in time against sci-fi businessmen
OUTRUN
Nothing like being a rich jerk and cutting off millions in a tropical island of sorts.
The Alphax Z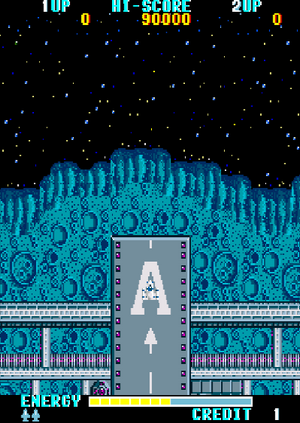 By:
 Woodplace Inc.
Year: 1986
Genre: Shoot 'em Up
Length: Until you get bored.
Two player is ordinarry but the screen is flipped to their side of the cabinet which is quite genius. Quite weird game filled with mice and cats in space. Contains physics.
The Amazing Adventures of Mr. F. Lea
By:
 Pacific Novelty
Year: 1982
Genre: Platformer
Length: Until you get bored.
Nice graphics and arcade parodies.